KVM Switch HDMI 2 Port Box Switches for 2 Computers Share Wireless Keyboard Mouse and HD Monitor
About this item
【2 Ports USB HDMI KVM Switch Box】Allows you to control 2 computer with only one set of controls and display screen (mouse and keyboard). Support host button switch and hot key switch.

【Ultra HD 4K Resolution】Support resolution up to 4Kx2K @ 30Hz,also support 3D and 1080P or lower resolution. Compatible with HDCP.Making display image more exquisite and realistic, really give a feast for your eyes.

【 Hotkey switch & Button switch 】Support Host button switch and hot key switch, quickly switch between 2 sources by keyboard (two hot key: "Ctrl + Ctrl + 1 / 2", "Scroll Lock + Scroll Lock + 1 / 2"). Support wireless keyboard and Mouse.

【Great Compatibility, Driver-free】Transmission technology support such as PC, Laptop, projectors, LCD monitors, Apple TV, PS3/PS4, Sony Bluray player, Nintendo Switch, projectors, audio/video receivers and most of the HDMI capable devices,no software required,simply plug and play.

【Stable Performance】Built-in two sets of high-performance chips, independent of each function to ensure stable operation of the device, high performance, low power consumption, powered by USB,ensuring the stability of the switch operation and good users Experience.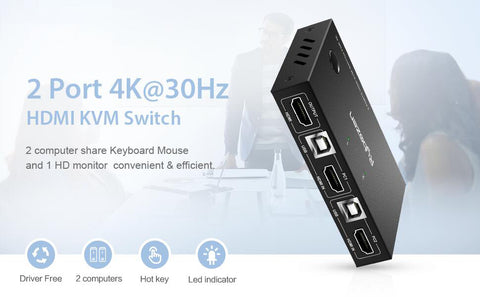 HDMI KVM Switch Connects Two Computers to a Single Keyboard, Mouse and Monitor
Ideal device for connect two HDMI signal source output devices (such as computers, servers, video recorders, etc.) to output the HDMI signal sources to one HDMI display device (such as TVs, projectors, LCD monitors, etc.).
Applications
The KVM switch is very suitable for use in networks with multiple computers and other server locations. Save the cost of multiple keyboards and monitors, and free up more desktop space.

Suitable for remote control, teaching equipment that needs to share a computer.

It can increase the normal operation time of IT equipment, save manpower, and improve work management efficiency.
Features:
When the computer is in hibernation,You can wake up your computer with the keyboard and mouse

Easily switches between systems via push buttons with LED indicating the active computer.

Adaptive EDID/HDCP decryption, able to adapt to a variety of complex application environment

High compatibility, can auto-match source and display device

Built-in automatic adjustment system, make the image smooth, clear and stable

No need to install the driver, Support hot plug
Notice:
This product needs power to work. The USB cable that comes with the product can power the product.

2xUSB-A interface can only connect USB mouse and USB keyboard;PC1's HDMI cable and USB-B cable should be connected to the same input device; PC2 is also.




















Package Contents
HDMI KVM Switch*1

USB Cable*2

HDMI Cable*2

User's Manual*1
Button switch & Hot key switch
Support Button switch& Hot key switch,freely switch between 2 computers by pressing a button.No software required, plug and play.
Support multiple devices
Support 2 HDMI signal input and 1 HDMI signal output.

Support high resolution up to 4KX2K @ 30Hz.

Support 3D video. Compatible with HDCP.

Support USB 5V±5% interface power supply.

Support system Mac OS / Windows / Linux.
Shipping & Return
Yes, we ship all over the world.
Free shipping:
USA, France, Germany, Italy and Spain (3-7 working days). 

The rest of countries:
Shipping fee around $15 (1- 2 weeks).
You can return, if the product delivered is different from the product ordered by the customer, or if the product is defective, or if the customer does not like the product, the customer may return the product  within 30 days of receipt the shipment. Read more.
Product specification
Email: support@digitnow.com. We will be happy to assist you.